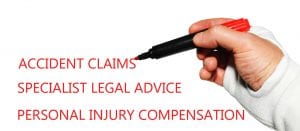 Stephanie Lee our personal injury specialist solicitor is Accredited as a Senior Litigator by the Association of Personal Injury lawyers (APIL).  She is the only lawyer in Clitheroe holding this recognised specialist accreditation.
Stephanie Lee has over 21 years experience representing Claimants injured in accidents.
Personal injury claims have attracted some negative publicity. This is unfortunate because many innocent people do suffer genuine injury and financial losses through no fault of their own and the law exists to give them the protection and the compensation they deserve.
At Lewis Mitchell Solicitors we assess the accident claim and identify whether the client has a legitimate and winnable case to present. If so, then we will do everything we can to bring about a successful outcome – one that properly compensates the client for whatever injury or financial losses that he or she has sustained. We are happy to act on a no win no fee basis for cases we take on.
Personal Injury Claims
These are some of the accident cases we deal with
Accidents in the workplace
Road traffic accidents
Trips, slips and falls in commercial or public spaces
Whiplash injury claims
faulty products
children's accidents
Personal Injury Claim Criteria
In order to be entitled to make a legitimate personal injury claim, the following criteria should apply:
You suffered the injury or illness through no fault of your own, and:
The incident was caused by an individual or organisation that failed to take reasonable care for your safety, and:
The incident took place within the last three years, and:
The injury or illness caused you pain or distress, or:
It caused you to entail a financial loss (e.g. through being unable to work) or:
It caused you to entail exceptional expenses (e.g.  the costs of medical care, adaptations or equipment required during your recovery) or:
It caused your quality of life to suffer (e.g. it resulted in a disability of some kind)
Injuries may be physical or psychological and may have temporary or permanent effects.
How Lewis Mitchell Can Help You
As responsible legal professionals, we will help you to present any legitimate personal injury claim and to achieve all the compensation to which you should be entitled. We have an excellent track record in this field and we are extremely proficient at giving the courts a clear and accurate impression of the losses you have suffered in order that they can make a fair and appropriate award.
When these awards reflect serious injury or accidents that will have a lasting effect on one's lifestyle and independence, they can be very significant and can make a lasting difference to the quality of our clients' lives.  We therefore take our responsibilities very seriously and do our utmost to achieve the best possible outcome for you.
For more details about our personal injury accident claims services, please contact our (APIL) Accredited Solicitor Stephanie Lee on 01200 428102